Identify, understand and act on previously hidden value from your data using the latest tools within Amazon Web Services.

Use prediction and automation to aid your data teams and increase productivity by up to 10x. (aws.amazon.com)
By using improved forecasting and intelligent anomaly or pattern detection to gain a competitive business advantage.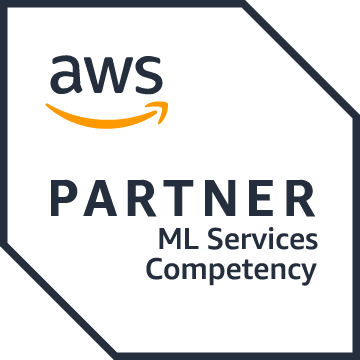 AWS Machine Learning Competency Partner
As an AWS Competency Partner in Machine Learning, we are proud to offer specialised ML expertise and solutions that help businesses thrive in the digital age.
Driving tangible business value with machine learning
Address common business needs or tailor machine learning (ML) workloads to improve customer experience, optimise operational processes and accelerate innovation on AWS.Begin a stress-free approach to the start of your machine learning journey by leveraging managed, purpose-built machine learning (ML) and artificial intelligence (AI) services.
Machine learning can also aid in the governance and democratisation of your data. Analysing and utilising data silos, automating security policy creation and improving security with accurate fraud detection, setting you on the path to a modern data strategy.
What is a modern data strategy?
Forecasting & Prediction
Leverage historical data to train and build models that forecast future outcomes or take advantage of relational data to accurately predict results.
Machine vision
Data collection from object tracking, detect changes over time, and facial recognition from image or video sources using machine learning models.

Natural Language Processing
Analysing natural speech or text to translate, interpret meaning or sentiment and identify key words.
Anomaly & pattern detection
Identify anomalies to detect fraud or discover patterns to discover trends and aid predictions.

Innovating customer processes across industries
Modern Data Strategy
Building a data strategy is essential for organisations to stay relevant, competitive, and innovative amidst constant change. Because data is vast, dynamic and comes in many different formats, extracting value can be challenging and to harness data's full potential requires an end to end modern strategy.
---
Data Maturity Assessment
The Data Maturity Assessment (DMA) is a 5 point assessment of specific areas contributing to a data strategy to highlight your current state, score your data maturity and highlight a clear roadmap for improvement.
Start your data strategy
Learn more
Insights & Events with machine learning
Your Modern Data Strategy starts with our maturity assessment
Data maturity assessment, results and report
Roadmap and timeline to delivery
Support and managed environment with Firemind
---